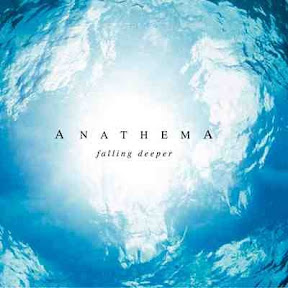 Some bands reinvent themselves. Some stay the same. Some produce the odd concept album or try something totally other once in a while. But surely the masters of reinvention have to be Anathema. With their latest foray into the wildly unexpected they have produced Falling Deeper; an orchestral, almost neo-classical, reworking of some of their older doom songs.
Ostensibly a follow-up to Hindsight, which saw rearrangements of various Anathema songs, Falling Deeper takes the whole concept to a far reaching conclusion. It may be a step too far for some. Most of the songs are unrecognisable from their heavy, guitar driven origins.
The whole project got started by Danny Cavanagh who was playing with piano arrangements, and who then was inspired to include a 26 piece orchestra. For lovers of modern classical pieces, film scores and related orchestral noodling, this album is sure to tick every box.
As a relatively recent convert to Anathema fandom (A Natural Disaster being the first album I heard) I was unaware of, or at least not entirely familiar with, many of the original tracks. I've since gone through a sort of Anathemic nostalgia, listening to the new and the old together. I can safely say that Falling Deeper is a work on its own, and not a remix or reissue of older material.
The music itself, then, is a very relaxing, emotionally charged experience. Crescendo follows lull follows crescendo as the music builds and falls for the relatively short 38 minute run time. While it's easy to zone out and experience it washing over you, the melodies that made the original tracks so great still draws you in, intertwined with the soaring strings and the soft, yet powerful vocals.
Of all the tracks reworked for this album, it's hard to pick particular highlights. Crestfallen and Sleep In Sanity start proceedings as they mean to go on. Everwake's dreamlike soundscape and beautiful vocal is a real pleasure, and Sunset Of Age completes the album with exhilarating, yet somewhat disquieting, aplomb.
It's been rumoured that Anathema is in the studio recording all new material for release early next year. If and when they tour the new material, I can't help but hope they bring the orchestra along so I can experience Falling Deeper in the best way to experience any Anathema track; live, up close and heart wrenchingly personal.